I'm so excited to share with you Bibi from @314sqft. I love their story and all the yummy food she makes! She shares two of her favorite recipes at the end, enjoy!
I'm Bibi, Wife to my amazing husband, Mom to three loving kids aged 6 to 1 and Daughter of our King. We are debt-free Fulltime RVers in our 1999 Fleetwood Bounder.

I was born and raised in Germany. My husband and I met while I was in college and married a week after I graduated almost 12 years ago. Our RV life began when my husband and I were newlyweds and decided to move into the same RV that we are living in now while househunting for our first starter home. We bought a home in a subdivision and pursued the American Dream- with careers, cars and a general feeling for the need to fill a hole with more. But more of what I wasn't sure?! Fast forward 10 years and three children later, we sold our second home with the intention of moving into the camper only long enough to relocate to a different area. We sold most of our furniture and belongings, items we weren't attached to, while keeping a handful of things in our 20 foot trailer intending to rent a new home once we find a new area to live in. However, a few months into this full-time RVing we realized how much we enjoy living tiny and how good it was for our family!
Since then we have been diligently donating, gifting, and selling the remainder of our items while continuing to live in our RV. My husband is currently jobhunting and we are praying to find an opportunity to work from home so we can begin to travel full-time. At this point however, we are stationary in North Carolina and our day to day RV life looks similar to what it did in a regular home, only better ha ha ... Once my husband leaves for his job in the mornings my oldest and I do some homeschooling. After that, the kids and I head outside to spend some time in fresh air that can either look like jumping into the pool or the lake during the summertime or some hiking now that it is colder. After we return inside we freshen up and run our errands in town or visit the local library, the zoo or find other activities. It is very important to find activities outside for the children so they can run off their energy. They have found so much joy in playing in nature and their imagination has grown immensely since we started full.

Since living tiny it's a must to go outside and some days that means I have to force myself to do so as I'm by nature more comfortable curled up with a book and a blanket. A big thing for us also is being debt-free and being able to give the kids more in experiences by going places for them to enjoy.

Since my husband's New Years Resolutions is to become healthier, we have taken up running rounds over the campground while the kids ride their bicycles with us. I have also been plant based vegan for almost two years (on and off prior to that) and since cutting out animal products as well as processed foods I have felt such an immense benefit health wise. No more brain fog, no more emotional ups and downs and so much more energy to run with my kids. So in a way we are not only living close to nature but eating as close to nature as possible as well!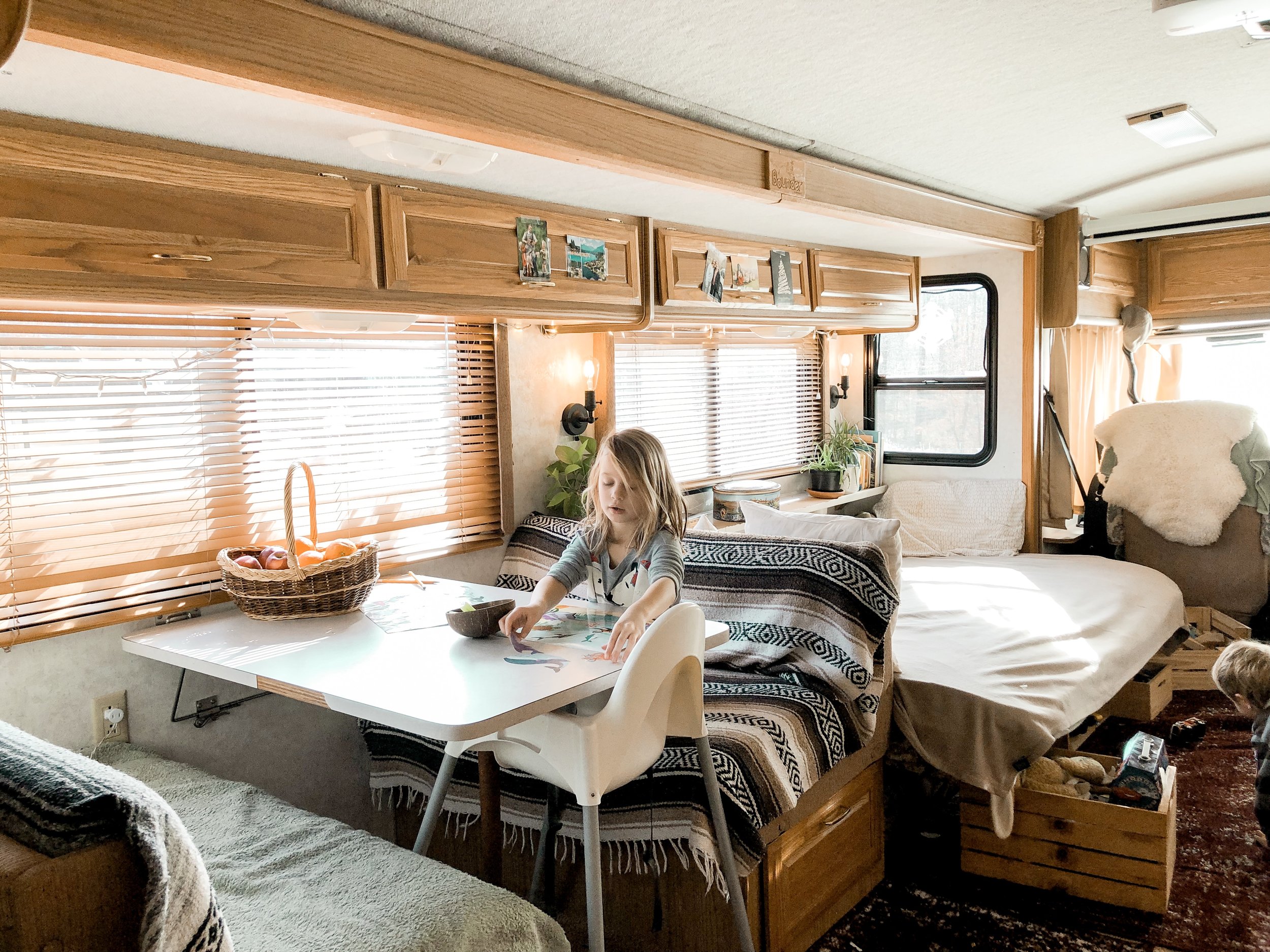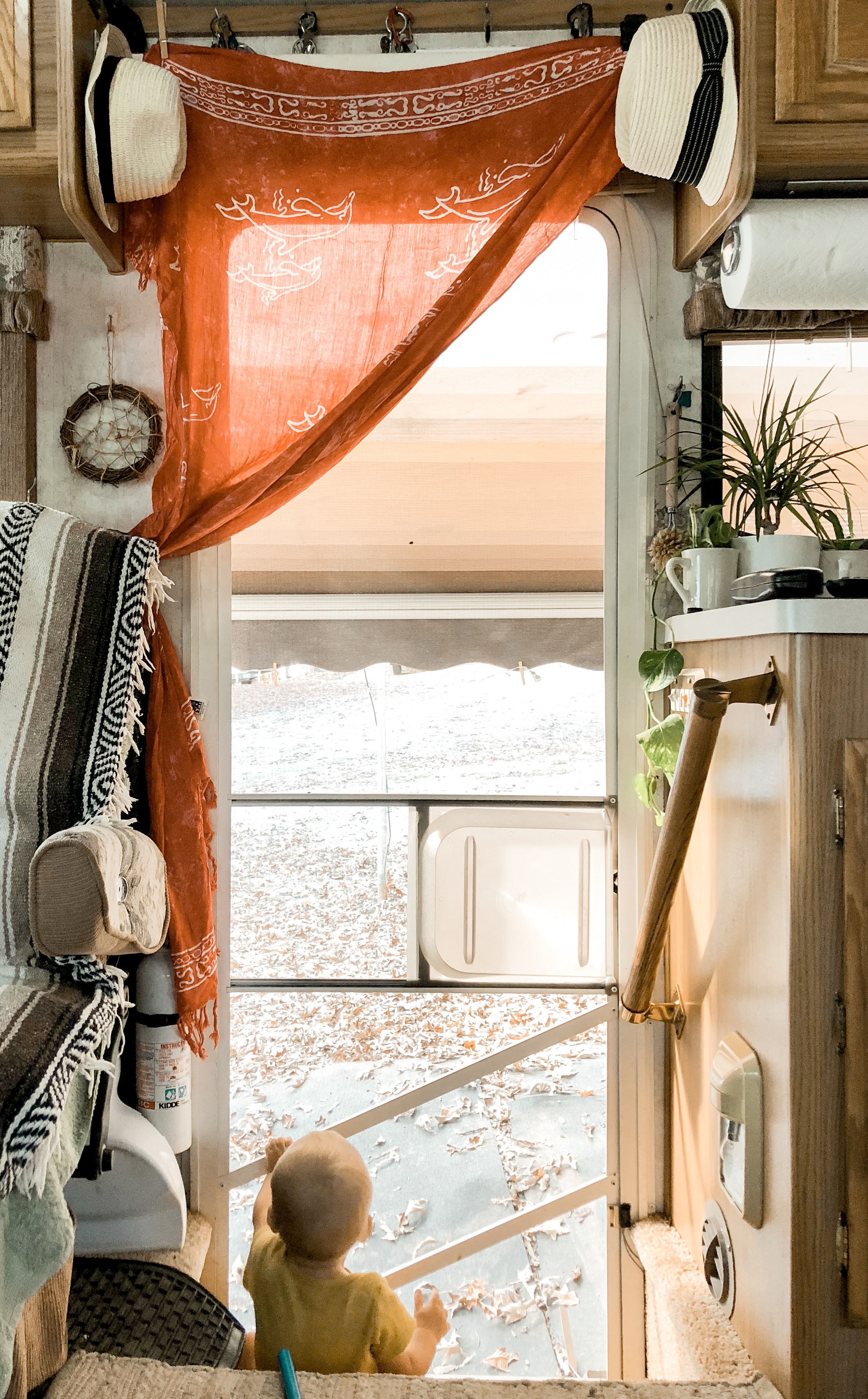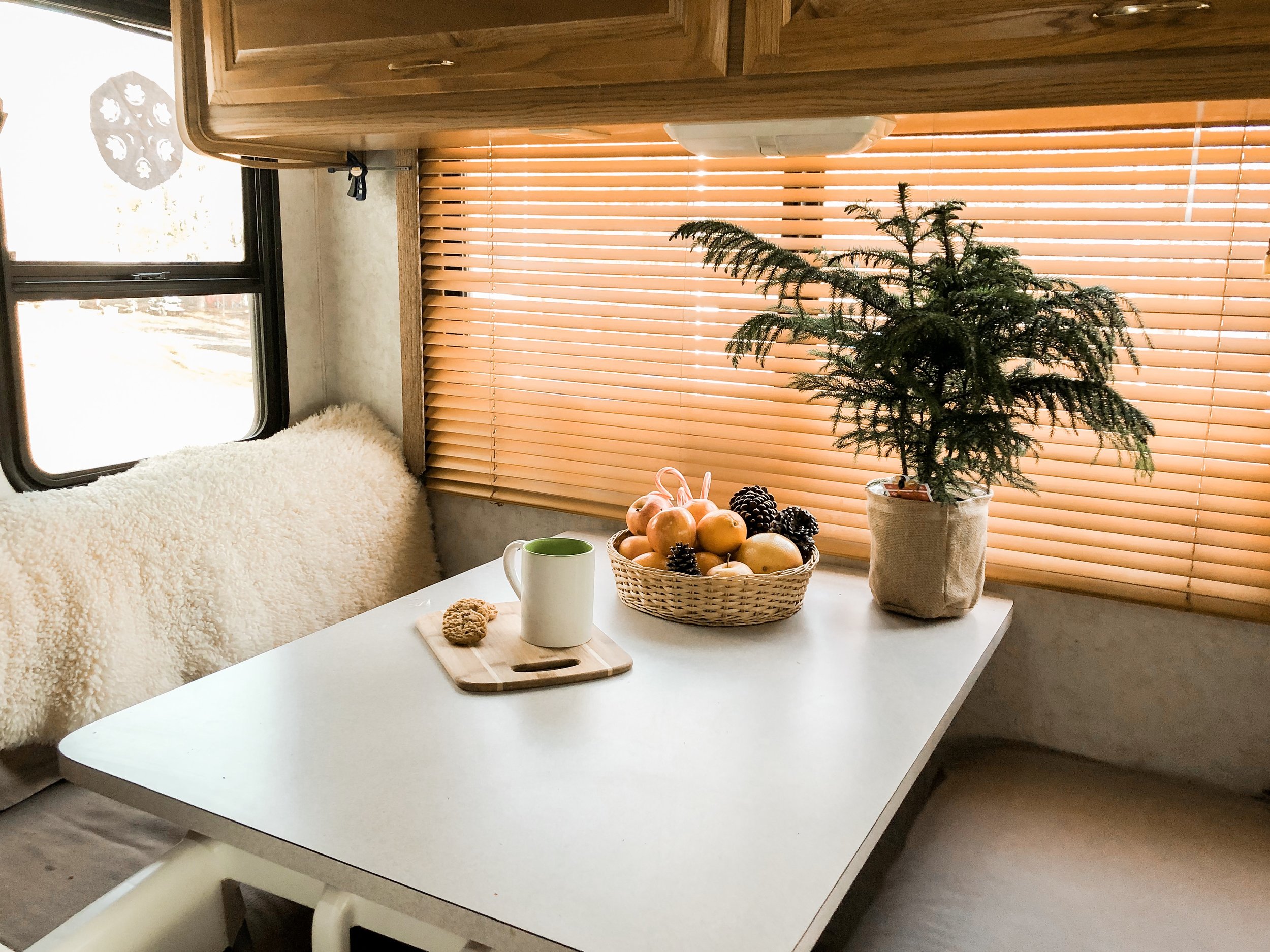 There are challenges, if you will, to live in a tiny space, one of which is the sacrifice of our privacy. But we are willing to accept these opportunities to be closer as a family. When we had a house the kids were always in the same room as us anyways. They are still all around my feet (literally some days) now that we are in the camper, the only difference for me is that I have less to clean, ha!
The sacrifices are worth the gain, though. There is a sense of community that I have not found anywhere else before. Both online and IRL, you check in with each other and support as best as you can. This feeling of belonging and community is so special and I'm very grateful for that.
To find Bibi on IG click HERE
I'm going to leave you now with two of our favorite recipes. Hope you enjoy and thank you so much for reading!

Berry (N)ice cream
1 cup frozen berries
1-2 frozen bananas
1 cup frozen mango (optional)
1 tsp vanilla flavoring
1-2 pitted dates for added sweetness
Blend all ingredients in a high speed blender until smooth. You may have to add a TBS or so of soymilk or water to get it to loosen up. Alternatively you can let the frozen fruits sit for a minute to loosen up.
Scoop out into a bowl,l and top with your favorite toppings, such as sliced banana and more berries.

Banana Split Oatmeal
1/2 cup oatmeal
3/4 cup water
1/2 cup coconut meal (optional)
1 TBS sweetener of choice (coconut sugar works well)
Pinch of salt
Combine everything in a pot on medium-high heat, bring to a boil and simmer 5 minutes
Meanwhile, I'm a blender combine
1/2 cup of cashews (soaked)
1/3 - 1/2 cup water
1 TBS sweetener of choice (for example maple syrup)
1 tsp lemon juice
1/4 tsp vanilla flavoring
Pulse until smooth. Assemble the Banana split:
Half 1 banana, top with oatmeal and cashew Creme. Top with blueberries and shredded coconut, also good with strawberries and hemp hearts.